Metal Roofing Options from The Roofing Store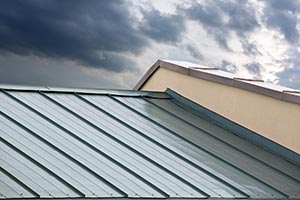 Durability and long-lasting beauty make metal roofing a superior choice for residential applications. You'll appreciate the value metal roofing offers as the years accumulate with practically no maintenance or replacement costs. Whether you want a sleek, contemporary look, a classic, traditional look or a rustic look for your country home or log cabin, The Roofing Store has an option for your home. We offer three metal roofing options; steel, copper, and aluminum.
Steel Roofing
Galvalume steel from Englert is an ideal roofing material because of its strength, extraordinary outdoor corrosion resistance and longevity. Their two lines, Galvalume® and Galvalume Plus®, are steel coated with a special Aluminum-Zinc alloy. This makes your metal roofing from Englert more than twice as resistant to corrosion than plain galvanized steel.
Engert Galvalume and Galvalume Plus lines comes pre-painted in 26 standard Ultra-Cool colors. For large applications, like farms with a home, barn, and other outbuildings, they offer custom paint colors. Ask if your application meets their requirements for a custom color. The Galvalume Plus includes a clear acrylic coating. Both lines are ENERGY STAR™ certified as a reflective roofing material.
Copper Roofing
Copper, known for its beauty and durability has been used throughout the world for centuries. It doesn't rust, has no finish to scratch or peel, is soft enough to easily tool. It's often prized for how it weathers naturally to a beautiful, natural green patina. Although considerably more expensive than aluminum and steel, copper is the metal roofing material of choice for buildings with a long design life.
Aluminum Roofing
Aluminum is extremely lightweight and won't rust, but must be painted or coated for appearance. Coatings are like those used on steel. Aluminum is a viable option for virtually any roof where steel or other materials are being considered, particularly in coastal environments where salt air can cause corrosion. Its natural properties of light weight, strength and longevity make it a desirable roofing material in any environment. Aluminum is more malleable than steel and can generally be formed into more intricate and detailed product designs which allow the building of strength and beauty into a roof.
If you want metal roofing for your home, fill out our contact form or call The Roofing Store at (860) 564-8300. We'll schedule one of our metal roofing team members to come speak to you about the many benefits of metal and provide you a quote.