Expert Vinyl Siding Installation for Your Home
Choose the Area's Most Experienced Siding Contractor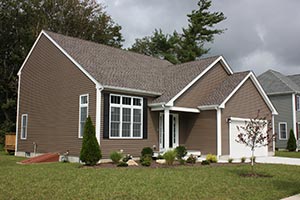 Are you tired of scraping and painting your home every few years? Would you like to make it more efficient and maintenance-free? A vinyl siding installation is just what you're looking for. Vinyl siding won't rot, peel, dent or show scratches, and it never requires costly, time-consuming painting.
Residential Vinyl Siding Options
Trust the experts at The Roofing Store to help you choose vinyl siding option that best fits your needs and budget, and to install it with careful attention to detail. You'll be amazed at how much better your home looks!
Make your home look just as you imagined with CertainTeed's quality vinyl siding, available in several styles and the widest color palette of any manufacturer. If you want the look of wood and not vinyl for your home, the Cedar Impressions® and CedarBoards™ lines provides the realistic look of cedar wood without the associated maintenance. CertainTeed vinyl siding offers exceptional colorfastness, backed by PermaColor™ Lifetime Fade Protection.
Alside's premium vinyl siding combines modern technology with handcrafted beauty to meet your lifestyle and budget. One innovative option is the Prodigy insulated siding system, which includes a built-in layer of rigid foam insulation for enhanced strength and reduced utility costs. Alside siding includes a limited lifetime transferrable warranty plus hail and fade protection. It's a smart and simple way to invest in your future.
Get a Free Siding Estimate
The elements can really do a number on your home's siding. Replace and upgrade with quality products installed by The Roofing Store, the leading siding contractor and home improvement specialist in the area. Call us at (860) 564-8300 or complete our estimate request form to schedule a free estimate.
© Copyright 2007-2023 The Roofing Store, LLC.
All Rights Reserved.